Jeu de pneu / Tire play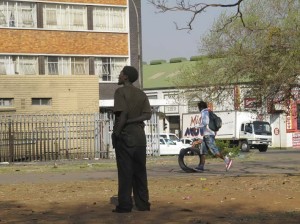 Auteurs / Authors : Michel Ekeba
avec la complicité de Jean-Christophe Lanquetin et d'Eléonore Hellio
Description :
– Déambulation autour d'une place / Photos de JC Lanquetin
– Réflexion sur l'art au ArtFair de Joburg / Photo by ME/EH
Axes de recherche / Research axes (Play/Urban)  : Theatricality/performance, Body politics, Game/Play
>>>>>>>>>>>>>>>>>>>>>>>>>>>
In situ
medium : corps, pneu, photo, texte
genre : Action / Photographie
concept : Se fondre dans un environnement en faisant une action simple : jouer.
Participants : Habitants
durée / duration : 5 minutes
ville / city : Joburg
Questions :
>>>>>>>>>>>>>>>>>>>>>>>>>>>
FREE SPACE
Tout part d'un questionnement, je ne sais pas où on va !
Je regarde les panneaux de circulation de la route, nous marchons dans le sens contraire des directions fléchées pour les véhicules. Quand on avance sur un chemin, on a ses propres repères et son propre sens de l'observation. C'est à partir de cela que chacun créé des concepts et des contextes intérieurs qu'il peut extérioriser selon sa manière de ressentir les choses. Nous traversons des espaces, j'essaye de reconnaître le fond, je veux dire l'histoire et les traces du temps sur ces espaces. J'essaye de reconnaître la forme de ces espaces, leur superficie, leur cadre avec les éléments présents et remarquables. Il y a des moments où je m'arrête, je me fixe sur un point pour essayer de comprendre et faire mes propres analyses subjectives pour trouver des compléments et des bases mais je suis forcément décalé avec la réalité parce que la réalité elle-même est décalée. Le passé d'un lieu, je ne peux que l'imaginer mais cette projection se superpose dans l'instant avec les formes humaines et animales qui l'occupent. Je vois des bâtiments abandonnés, je pense qu'ils représentent une révolte contre quelque chose que je n'arrive pas à comprendre et même si j'arrivais à le comprendre, je reste ici un alien. Je tente alors simplement de capter les regards, les ondes visibles et invisibles qui attirent mon attention, les sons que ce milieu émet pour entrer dans une interaction spontanée. Je laisse mon esprit recevoir toutes ces stimulations et ces informations pour essayer d'en ressentir les effets. Je laisse mes sens éprouver un retour de la ville, j'entre dans une synergie avec les mouvements de la vie et cherche la réciprocité qui peut s'opérer entre le lieu et moi.
Un des danseurs de Sello Pesa, Humphrey, nous a d'abord emmené dans un parc assez désert, calme, tranquille plutôt fréquenté par des femmes, nous ne sommes pas restés là très longtemps. Puis il nous a emmené au Port Plein Park, celui où Sello a réalisé sa performance quelques jours plus tôt, donc dans un endroit déjà familier. Dans ce parc très peuplé (contrairement au premier), très vite je ressens une intensité en mouvement avec un sentiment de liberté qui m'a poussé vers un pneu usé sans dents, objet que l'on trouve difficilement dans les rues de Kinshasa, la ville où je vis parce que là-bas il est vite recyclé. On brûle les pneus lors des deuils, lors des revendications populaires ou des mises à mort des voleurs que l'on flambent encapsulés à l'intérieur. Le pneu de Port Plein Park m'a donné envie de le faire rouler sur la terre pour entrer dans l'énergie de cette ville. Je voulais m'approcher plus près des personnes croisant ma trajectoire et libérer mon énergie, j'avais un désir de défoulement. Je voulais attirer l'attention en jouant comme un enfant innocent pour ne pas perturber les occupants de cet espace.
Quelques jours plus tard, je me suis vraiment requestionné sur ce pneu en visitant la « Art Fair » de Johannesburg. Près de l'entrée de l'exposition dans le lounge où l'on vendait du champagne très cher, un vieux pneu usé était exposé sur une table noire très design.

VERSION EN ANGLAIS
Tyre Games
It all starts with a question and I don't know where any of it is going!
I look at the street signs. We are walking against traffic. When you make your way through a city, you create your own landmarks and you develop a way of observing things that is all your own. In this manner, you elaborate concepts and contexts on the inside, which you can turn outward when you need them. We move through spaces and I try to get to the bottom of things – I mean by this the history of the buildings and that of the traces that time has left on their surfaces. I seek to apprehend their shape, their size, their surroundings, what makes them remarkable and lends them their presence. At times, I stop and focus my attention on a specific point in an attempt to fully understand what I am seeing. I want to develop mw own, subjective analyses. My gaze feels off kilter. This is because reality itself is off kilter. I can only imagine the past of a given space. What I imagine superimposes itself over the human and animal bodies occupying the space. I see abandoned buildings. I suppose that they tell a story of revolt, but against something that I cannot quite understand. And even if I could understand, the fact would remain: I am an alien here. And so I try, simply, to latch onto people's gazes, onto the wavelengths, visible and invisible, that capture my attention, onto the sounds that this space emits, and to all of this input I seek to interact spontaneously. I let my mind be shot through with each and every one of these stimuli, with all of these pieces of information, so that I may feel. I allow my senses to sense the city, I enter into a synergy with its movements and listen for the sounds of the reciprocity that it fosters within me.
One of Sello Pesa's dancers, Humphrey, first brought us to a park that held few people – a quiet place, mostly visited by women. We did not stay long. Then he brought us to Port Plein Park, the place where Sello's performance had taken place a few days before. We were on familiar ground. Here, there were many people. Immediately, I felt a strong sense of movement and of freedom. I turned my attention to an old, cracked tyre – the kind of thing you rarely find in Kinshasa, for it would be recycled rather than discarded. In Kinshasa, tyres are burned at funeral ceremonies, at roadblocks, in necklacings. The Port Plein tyre was there for the taking. I began rolling it along, and, with it, I entered into the energy of the city. I was overtaken with the strength of that energy, with a desire to share and spread it to passers-by. I wanted to draw attention to myself by playing like a child – an innocent child, whose games would threaten no one.
(Photos by Jean-Christophe Lanquetin)
A few days later, while visiting the Johannesburg Art Fair, I began asking myself questions about this tyre. In the lobby, they were selling expensive champagne. Nearby, on a sleek, black table, someone had positioned an old tyre.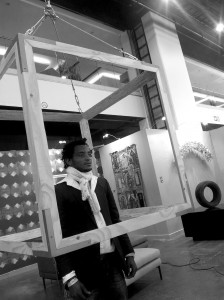 Photo by ME/EH