Urban Talk !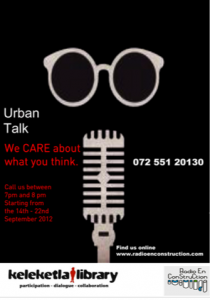 Auteurs / Authors : Enjay Ndlovu, Irene Tchernooutsan, Megan Mace, Michelle Monareng
Descriptif du projet :  Projet Radio
Axes de recherche Play/Urban :
-Play/game
-Fiction/réalité: Mise en scène par le son de la pratique de la ville de Johannesburg.
-Canular
Temps 1 : in situ: Prise de son dans différents quartiers pour trouver un fond sonore à l'enquête. Recherches historiques sur quelques bâtiments et prospection (ex:vieu cinema à côté des bureaux de Kelekhétla).
médium : Enregistreur, corps, voix.
genre : repérage, ballade.
concept : rencontre, interviewer, beaucoup d'heures à arpenter les rues.
participants : Enjay, Michelle, Mégane, Irène , Fouzi , Passants
durée :Recherche étalée sur quatre jours.
ville : Johannesburg 
Questionnements :
-Comment rendre compte de l'atmosphère d'une ville?
– Jeu sur la science fiction: créer une situation en rapport avec l'aspect science-fictionnel de cette ville (temps de la ruine qui côtoie les constructions à venir), une narration afin  d'avoir une trame qui architecture  notre ballade sonore.
-Faut-il avouer clairement le canular? Tout est mis en scène et construit dans un studio.
Temps 2 :Diffusion de "Urban Talk" sur Radio en Construction.
concept : la radio comme outil à la compréhension et à l'imaginaire d'une ville
participants :Public de la Stevenson art Gallery et auditeurs de Radio en construction à
Questionnements : Les mêmes que cités précédemment
>>>>>>>>>>>>>>>>>>>>>>>>>>>>>>>>>>>>>
Analyse critique / Critical analysis :
-Projet difficile d'accès lors d'une exposition. Manque de moyens mis a disposition pour partager
cette émission. Nécessite de s'isoler 30 minutes
Protocoles (collectif) d'action / (collective) action protocols :
>>>>>>>>>>>>>>>>>>>>>>>>>>>>>>>>>>>>>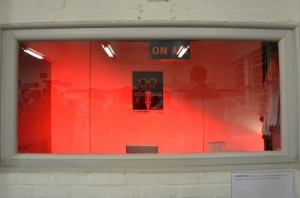 Studio radio mis en scène lors de la dernière exposition à Vansa
This radio project is about documenting the city through sound as a method of story telling,The project is structured as a ballad in the city from the oldest to the newest point in the city
Our plan is to use people in the city as characters for this narrative that we are trying to make about the city.
We are going to work in five spaces: Dornfontein, Braamfontein, Hillbrow, Marshall town, and Yoeville.
this character is a person who walks through the city, who then has to call us to tell us more about the spaces in the city,
we will explore these areas including abandoned spaces(looking at what was in Johannesbug City in the past and what is there now).These walks will be restituted through sound that we will use for creating this narrative.
Collaborators : Keleketla Library, Radio en construction, Dorothée Kreutzfeldt,  Marielle Agboton « La vie sportive » et François Duconseille « HeadLines »

One Comment