Mur de post-it avec mots clé / Post-it wall with key words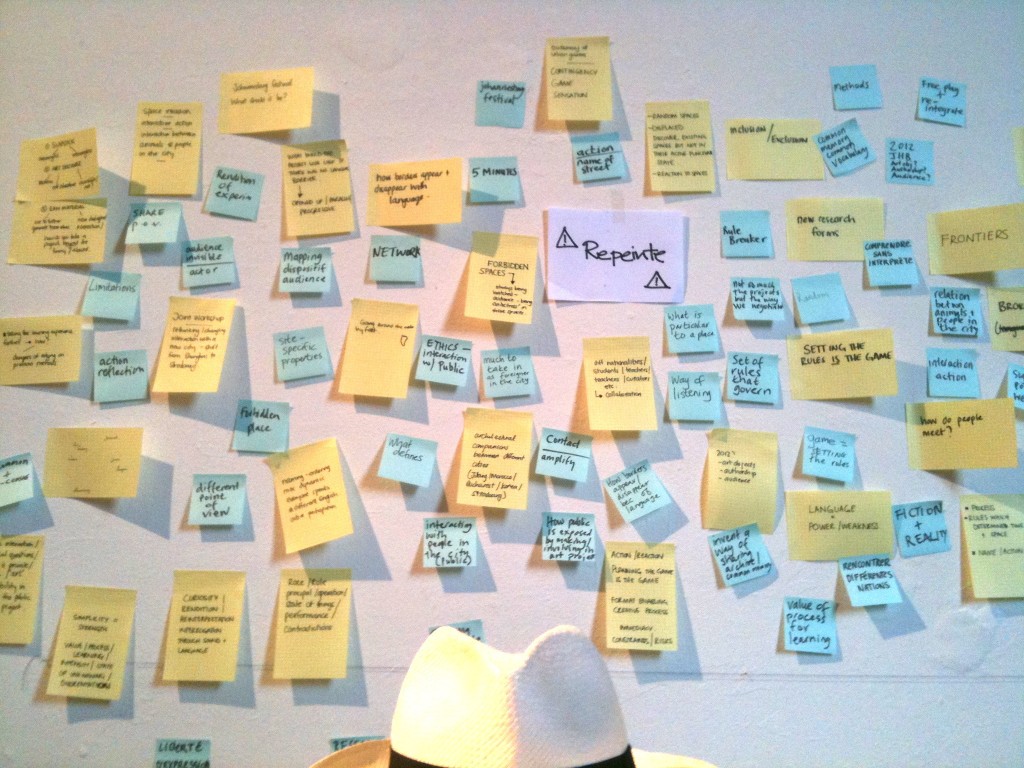 Auteurs / Authors : Natasha Christopher
Participants: Natasha, Jean, Zen, Francois, Dominique, Naadira, Pierre, Irene, Shogan, Kemang, Pauline, Marie, Calin, Aurora, Murray et all 'Urban Games' participants
Lieu / Place : ESAD, Strasbourg, 2011
Date(s) : Day 4, May 2011
Durée (processus jusqu'à présentation ou à préciser / Duration (process until presentation or to be specified): One day
Description (medium, genre, concept, questions, critics…):
Round table / discussion / analysis
On the fourth day of Play>Urban 1 (Strasbourg), players spent the day reflecting on the work of the previous three days. The work raised many questions about the process, about working in the city, about the purpose of the exchange. Each person reflected on his/her experience, and on the issues that stood out for him/her in the working process. These thoughts were recorded by hand and posted onto the wall as the discussion proceeded. The end result was what is shown in the photograph above – a map of the group thinking and experience of the week. Many of these ideas and concepts have formed (a) thread(s) throughout subsequent Play>Urban encounters.
Perspectives :
Axes de recherche / Research axes (Play/Urban):
Johannesburg / process / point of view / translation / mapping / dispositive / forbidden spaces / Strasbourg / action / reflection / city / centre / language / foreign / tourist / surface / place / experience / periphery / ethics / system / regulation / time / regulation / restitution / Bucharest / pedagogy / encounter / engagement / exchange /
>>>>>>>>>>>>>>>>>>>>>>>>>>>
FREE SPACE