3ème jour / Across the river (Can you hear me?) / De l'autre côté de la rivière (est-ce que tu m'entends?)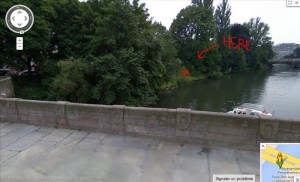 Auteurs / Authors : Zen Marie, Pauline Lepeu, Garance Coquart
Participants : Zen Marie, Pauline Lepeu, Garance Coquart
Lieu / Place :  Bord du quai du maire Dietrich
Date(s) : Mai 2011
Durée (processus jusqu'à présentation ou à préciser / Duration (process until presentation or to be specified) : 30 minutes
Description (medium, genre, concept, questions, critics…) : Tentatives de discussion en français et en anglais avec des passants de l'autre côté de la berge. La difficulté de communication est dû à la distance mais également à la langue.
Perspectives :
Axes de recherche / Research axes (Play/Urban)  :Game / Play, Body politics
Protocoles (collectif) d'action / (collective) action protocols :
>>>>>>>>>>>>>>>>>>>>>>>>>>>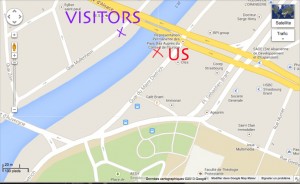 "- Hello!
– Bonjour!
-You speak english please?
– Hello!
–  Please, you speak english or not?
– How do you go to the palais des Congrès?
– I don't know.
– Are you not from Strasbourg?
– Yes.
-But you don't know how to go to the Palais des Congrès?
– No sorry.
– OK, thank you."