Jhb / First day / A walk in Alexandra and Sandton / sept 2011
FICHE SIMPLE / SIMPLE SHEET :
Titre / Title : Walk in Alexandra and Sandton
Image emblématique (peut être un collage) / Iconic image (may be a collage) :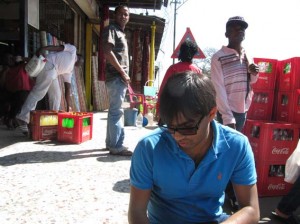 Auteurs / Authors :
Participants : Dominique Malaquais, Jc Lanquetin, Shogan Ganas Naido, Vicky Vigzel
Lieu / Place : Alexandra and Sandton shopping center.
Date(s) : sept 2011
Durée (processus jusqu'à présentation ou à préciser / Duration (process until presentation or to be specified) : One day
Description (medium, genre, concept, questions, critics…) :
Perspectives : very few
Axes de recherche / Research axes (Play/Urban) :
Protocoles (collectif) d'action / (collective) action protocols :
>>>>>>>>>>>>>>>>>>>>>>>>>>>
FREE SPACE
Jean Christophe Lanquetin
This moment is an interesting example of the complexity of Play>Urban. First day in Johannesburg, the South Africans organize two walks, one in the township of Alexandra (morning), the other in Sandton (afternoon). Alexandra and Sandton are geographically one next to the other and the contrast is more than massive between a township and the richest area/city in all the south of the african continent. We are four, we begin to explore Alex. We walk, waiting for sms instructions (the collective rules of P>U). The complexity of our position becomes immediately obvious: we are there to look, without specific things to do or person to meet. We are tourists,  and this position is impossible. All of us we feel uncomfortable, including the South Africans. We stop walking and sit in front of a pakistanese shop. A bit of a relation begins. We discuss, we buy little objects. We wonder what we gonna do. The walk starts again, on a main road, we pass by buildings, one Dominique knows, which is a very historical place related to the violences at the end of the apartheid. Again our presence, it's reasons (play), is strange, problematic, as it is not anchored. We finally decide not to do anything, and go to the meeting point for lunch.
In the afternoon, same group, but this time in Sandton. When we begin the walk, immediately we look for a cafe. We literally run into it, the cafe is also a bookstore. We are there and the feeling is one of relief. Strange moment where we realize how our perceptions are formated. The walk continues in the shopping mall. Same, no real project, but this sensation of strange peace, and at the same time the obsenity of what we see.
From this day nothing came in terms of project. But it was an important moment of undestanding about the complexity of the project. From this experience came the idea to anchor our experimentations with local artists.
Alexandra par Vicky Vigzel
On the first morning of Play>Urban we were bussed into Alexandra. Dropped off at a location within a shopping district. Split up into groups, which then dispersed- each walking in a different direction. In the lead up to actions/experiences such as this, it is easy to brush off/gloss over the effects that your presence will have. I was excited to make things happen, perhaps with a mental image of making immediate interventions upon arriving. We were walking, some with cameras, most with notebooks. We know we are not tourists, we know that not all of us are foreign to the country but all within the group are on some level foreign to the place. We realize this almost immediately, we are aware of our presence. We decide to sit down outside a row of shops and buy a couple of cold drinks. Here we attempted to plot our next course of action.
Walking down the nearest main road, we notice and point out landmarks- a soccer field, a block of flats. We notice the approximately 20m long extension chord that gives power to the spaza shop across the street, the spaza shop is playing house music and we decide to get to the bottom of which DJ produced the song which is blaring from the spaza shop.
Sandton City par Vicky Vigzel
Immediately after our experience (and our lunch) in Alexandra, we are bussed into Sandton City- the highly affluent neighbor of Alexandra. Our presence is not felt, we navigate the shopping mall with ease. Instead of attempting to find a point where we feel comfortable, can find a point of entry or interaction, we look for points of absurdity- where the supposed logic of the shopping mall breaks apart, where in our context as observers/interacters of, and with the space we could use to our advantage.
We saunter through the place- pointing out cafes, posing with sports cars, paying R10 (R40 less than the minimum taxi fare) to sit in the taxi and talk for 5 minutes with the taxi driver. Continuing in this way we attempted to find a point of real interest or connection with the space. We were unsuccessful, and having run out of time we walked back to the bus; to join the other half of the Play>Urban group and to be transported back to Wits.